New iMac and iPad Mini to Be in Short Supply Until 2013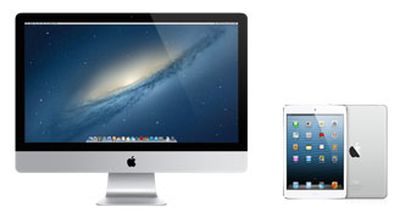 DigiTimes reports that shipments of both the iPad mini and iMac are expected to be constrained throughout 2012. In both cases, display production appears to be the limiting factor.
For the iPad mini, the panels have reportedly seen low yield rates, especially from one of Apple's suppliers. As a result, Apple may only reach 6 million of an estimated 10 million target for iPad mini shipments in the fourth quarter of 2012.
Meanwhile, the newly announced iMacs will also see constrained supplies due to issues with iMac panels from LGD.
Additionally, the sources said new iMac models use panels sourced only from LGD. The company has had to develop a new production process for mass producing the iMac panels and has limited capacity, which is delaying shipments.
Yields of both products aren't expected to reach target goals until the first quarter of 2013.
Apple just announced that the new iMac would go on sale on Friday, November 30th, but the 27" model wouldn't start shipping until December.