Apple Releases iOS 6.1 with New LTE Carriers and Fandango Siri Integration
Following this weekend's release of iOS 6.1 Beta 5 to developers, Apple has just released iOS 6.1 to the public. The update includes new LTE carrier support and Siri-based movie ticket purchases via Fandango, as well as iTunes Match individual song downloading and a new reset button for advertising tracking.
This update contains improvements and bug fixes, including:

- LTE support for more carriers (complete list of supported carriers at www.apple.com/iphone/LTE/)
- Purchase movie tickets through Fandango with Siri (USA only)
- iTunes Match subscribers can now download individual songs from iCloud
- New button to reset the Advertising Identifier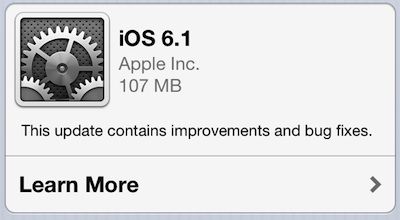 "iOS 6 is the world's most advanced mobile operating system, and with nearly 300 million iPhone, iPad and iPod touch devices on iOS 6 in just five months, it may be the most popular new version of an OS in history," said Philip Schiller, Apple's senior vice president of Worldwide Marketing. "iOS 6.1 brings LTE support to more markets around the world, so even more users can enjoy ultrafast Safari browsing, FaceTime video calls, iCloud services, and iTunes and App Store downloads."
New LTE carriers for iPhone 5 supported in the update include:
- USA: Alaska Communications, Alaska GCI, Bluegrass Cellular, C Spire, Cellcom, Pioneer Cellular
- Canada: MTS, Sasktel
- Puerto Rico: Claro, Open Mobile
- Croatia: T-Mobile, VIPNet
- Denmark: 3, Telenor, Telia
- Finland: DNA, Elisa, Sonera
- Greece: Cosmote
- Hungary: T-Mobile
- Italy: 3, TIM, Vodafone
- Kuwait: Zain
- Luxembourg: Tango
- Philippines: Globe, SMART
- Portugal: Optimus, TMN, Vodafone
- Saudi Arabia: Mobily, Zain
- South Africa: Vodacom
- Switzerland: Swisscom
- UAE: DU, Etisalat
However, as Jeremy Horwitz of iLounge points out, the new LTE carriers are only supported by the 4th-generation iPad, the iPad mini, and the iPhone 5. Third-generation iPads do not support any of the new carriers.