iOS 6.1 to Add Siri-Based Movie Ticket Purchases via Fandango
9to5Mac reports that among the new features included in the iOS 6.1 beta seeded to developers late last week is the ability to purchase movie tickets through Siri. The feature, which is currently limited to the United States, integrates with Fandango to facilitate purchases.
When a user asks for movie tickets for a certain movie, the applicable showtimes and theater information will be shown. Then, a user can click the buy movie tickets button and they will be routed to finish their purchase via the Fandango app from the App Store. If the user does not have Fandango installed, Siri provides a button to download the Fandango app.

Apple says that the feature is currently exclusive to users in the U.S. Additionally, developers who have used the feature say that it is not compatible with all theaters. Compatible theaters listed by Siri are accompanied by a small movie tickets icon.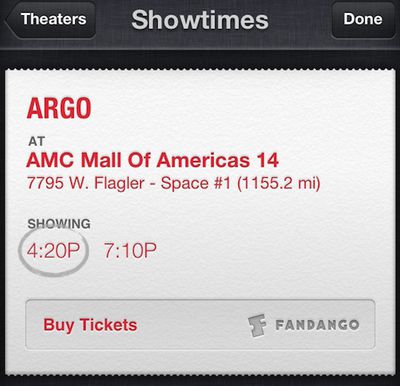 Siri already offers some movie theater features, including the ability to look up showtimes, access reviews, and play trailers, and Fandango integration marks an expansion of Apple's partnerships with third-party apps such as Yelp and OpenTable to extend Siri's functionality.