NZweek reports (via The Next Web) that government officials in Indonesia have revealed that Apple has submitted an application outlining plans to relaunch its online store in the country, to be followed by the opening of its first Indonesian retail store in Jakarta.
Chatib Basri, BKPM chairman, said BKPM has given official permission to Apple relating to its plan to open online store in Indonesia. "We have approved their (Apple) application," he said here on Tuesday.

Apple online store in Indonesia is expected to give shorter supply chain and distribution of its products.

Azhar Lubis, deputy chairman of BKPM said Apple will open its store in Indonesia's capital city, Jakarta. "The investment worth around 2 million to 3 million U.S. dollars," he said.
The Next Web notes that Apple previously operated an online store for Indonesia but shut down the store in early 2011 due to issues with shipping products from the store's central hub in Singapore. The store currently remains online only to provide pricing information and connect customers to resellers.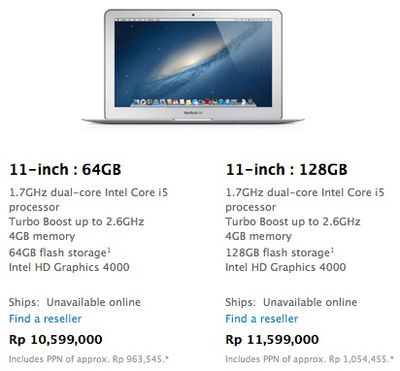 Apple has been focused on expanding its international retail store presence, and the company revealed in job listings late last year that it is making plans for its first stores in Brazil and Turkey. Apple has also been said to be looking at expanding sales in Russia.