OS X 10.8 Mountain Lion Tops Lion as Most Popular Mac Operating System
According to Web analytics firm Net Applications (via Computerworld) Apple's OS X Mountain Lion is now the most popular version of OS X, just five months after its July 2012 release.
During December, 32% of all Macs that went online were running OS X 10.8 Mountain Lion. Usage of Lion, the previous iteration of OS X, dropped from 30% to 28%.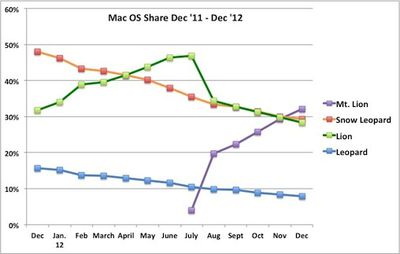 OS X 10.6 Snow Leopard, first introduced in 2009, remains widely used despite its age. As of December 31, it still represented 29% of Mac Internet usage. Snow Leopard remains for sale on the online Apple Store and has been lauded for its stability.
Easily accessible and reasonably priced upgrades have always enticed Apple users to embrace operating system updates. Apple famously boasted about selling a million copies of OS X 10.7 Lion in its first day of availability, and Mountain Lion also saw rapid adoption numbers.


Net Applications collects its data by tracking browser usage of 160 million monthly visitors from around the world on approximately 40,000 websites, offering a picture of the active user base of browsers and platforms at any moment.