OS X Mountain Lion Already Accounting for 3% of Mac Traffic
AllThingsD reports that just over 48 hours after launch, OS X Mountain Lion is already accounting for over 3% of web traffic coming from the Mac platform. The data, which comes from analytics firm Chitika, shows that Mountain Lion's share has risen quickly from roughly 0.25% prior to the public launch.
"Moreover, based on Apple's June 2012 announcement that there are currently 66 million Mac users in the wild, we can infer that 2.11 million Mac users downloaded OS X Mountain Lion in the past 48 hours," Chitika said. "Using this figure, if we assume that 90 percent of these users paid to upgrade, OS X Mountain Lion generated $38 million in revenue for Apple in the past 48 hours."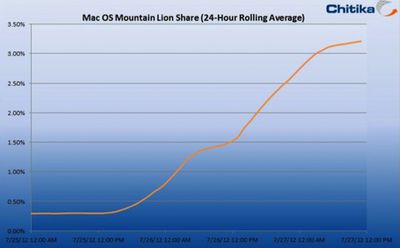 Adoption has been even faster among those who closely follow Apple news, with 9to5Mac reporting yesterday that over half of its Mac visitors were already on Mountain Lion after hitting 10% even before the public launch.
Last year, Apple touted one million downloads of OS X Lion in the first day of availability, but the company has yet to release any official early figures for OS X Mountain Lion.
With Apple having just released new and updated models of its popular MacBook Pro and MacBook Air machines last month, many users are eligible for Apple's Up-to-Date program, which offers a free upgrade to Mountain Lion. Apple has, however, been experiencing some issues with the program, with a number of users only just now receiving redemption codes to allow them to download OS X Mountain Lion.