Apple Says 'Do Not Disturb' Bug to Resolve Itself on Monday, January 7th
Some users discovered that the scheduling portion of the "Do Not Disturb" feature in iOS 6 failed to work after New Year's Eve. The scheduling would turn itself on as scheduled, but would fail to turn itself off again.
Apple reports in a support article that Do Not Disturb scheduling will begin working properly again after January 7, 2013.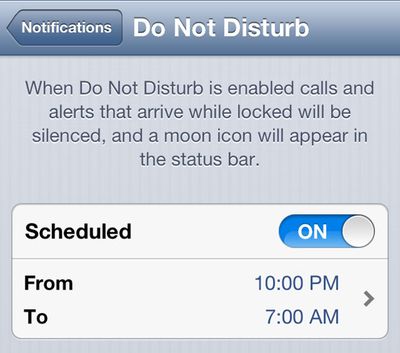 Symptoms

After January 1st, 2013, Do Not Disturb mode stays on past its scheduled end time.

Resolution

Do Not Disturb scheduling feature will resume normal functionality after January 7, 2013. Before this date, you should manually turn the Do Not Disturb feature on or off.

To turn off the scheduling feature, tap Settings > Notifications > Do Not Disturb and switch Scheduled to Off.