NPD: Consumers Want Content, Not 'Smart' Features, on Their TVs
The Daily Mail is reporting that new NPD research has found that consumers want more access to online video services like HBO Go rather than "smart" features like social networking access on their TVs. The research comes a day after it was reported that Intel was planning to launch a TV service and set top box in 2013 that focused on content.
NPD said that a big problem is that TV owners are confused because too much choice is creating a complex user experience.

'To counter this, OEMs and retailers need to focus less on new innovation in this space and more on simplification of the user experience and messaging if they want to drive additional, and new, behaviors on the TV."
Luke Peters, Editor of T3 Magazine, told MailOnline that Smart TVs will only become mainstream when they're as easy to use as changing a channel. Peters also notes that most Smart TV user interfaces are too complex for most people and that the content isn't good enough and that social networking doesn't make a lot of sense on TVs.
Apple has long been rumored to be interested in creating a TV that focuses on content as well in addition to features that could change human-to-TV interaction with Siri, Facetime and motion control. Apple was also rumored to be in talks with cable services like Comcast and Time Warner Cable in mid-2012, although no content deals have materialized yet.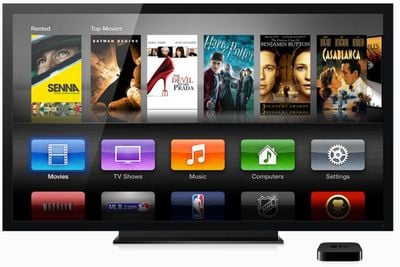 Apple, like Intel, has largely had problems negotiating with content providers because of contractual limitations with cable providers, which may be why Apple's TV offering hasn't appeared yet. Although Intel's offering is set to debut January 7 at CES there's no telling if or when Apple's may debut, although recently it's been rumored that Foxconn is currently testing television set designs in the 50 - 55 inch range.