Apple Television Set to Include Siri and Face-Tracking iSight for FaceTime Calls?
Cult of Mac reports that it has received information from a "well-placed" source who claims to have seen a prototype of the rumored Apple television set. According to the source, the device resembles Apple's current Thunderbolt display but is "much larger" than the 27-inch model currently offered.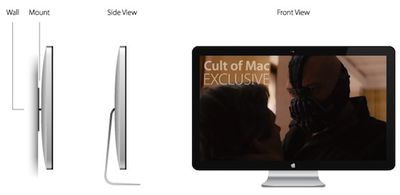 Mockup of Apple television set based on Thunderbolt display design
Among the key features reportedly included on the prototype Apple television set is a Siri-enabled iSight camera allowing users to make FaceTime video calls using the device. Addressing the fact that users are likely to sit substantially farther away from the television than they do their computers and mobile devices, the source claims that the camera will be able to automatically detect and track faces, zooming in on them for FaceTime calls even if they move about the room.
The Apple HDTV makes FaceTime calls using the built-in iSight camera. The camera is sophisticated, with facial recognition and the ability to zoom into the user's face and follow them as they walk around the room. This allows users to make video calls from the couch across the room, rather than having to stand smack in front of the TV.

In addition, calls are initiated by Siri, the iPhone 4S's virtual assistant. "[Apple] used Siri to make a FaceTime call," the source said.
Apple's rumored television set is widely expected to make extensive use of Siri, a rumor that first surfaced in Jobs' authorized biography, in which he was quoted as saying that he had "finally cracked" the problem of creating an elegant interface for the device. With Jobs calling it "the simplest user interface you could imagine", speculation immediately leapt to Siri, which could allow users to change channels and find shows using only their voice.
The idea of a Siri-enabled television set quickly gained steam with a followup rumor from The New York Times claiming that Apple was indeed working on such a device for a launch in late 2012 or 2013.
Apple has reportedly been working with component suppliers on plans for Apple television sets in recent months, although debate continues as to whether such a product will be ready for launch by late this year, next year, or even 2014.