Highlights from Apple's Preliminary Proxy Statement, Shareholders Meeting Questions
Apple this week released a preliminary proxy statement in a filing to the SEC. The filing is an announcement of the 2013 annual stockholders meeting, as well as questions that will be voted on at the meeting and details of executive compensation arrangements.
Among other things, the filing details CEO Tim Cook's total compensation for 2012. His base salary for fiscal 2012 was increased to $1.4 million in cash from $900,000, reflecting "his responsibilities for the overall leadership of the Company". The bonus program for senior executives allows for targeted and maximum bonuses of 100% and 200% respectively, depending on performance of the company.
Additionally, following the restructuring of executive responsibilities in October 2012, Apple increased the 2013 base salary of executive officers from $800k to $875k to "recognize the additional responsibilities" given to the officers.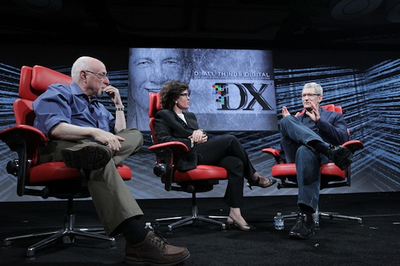 Apple also gives stock awards to executives in the form of restricted stock units or RSU's. These RSU's are awarded to executives with a certain vesting date in the future, when they will turn into normal shares of AAPL stock. They are intended to encourage officers to remain with the company, but are designed to be more favorable than stock options for tax purposes.
In 2011, Apple awarded Tim Cook 1,000,000 RSU's upon his promotion to CEO -- half will vest in 2016, and the other half in 2021. As a result, his "total compensation" was in the range of $378 million last year, though this is de facto inaccurate because, as Apple stated at the time, the award was intended to be viewed as spread over 10 years. This didn't stop Bloomberg from claiming in a now-changed headline that Cook's pay had dropped 99% from last year to this. Instead, Cook's total compensation this year amounts to just over $4 million in cash and bonuses.

We now have more details regarding the changes made to SVP Bob Mansfield's compensation package to encourage him to stay with the company. It was previously reported by Bloomberg Businessweek that Cook offered Mansfield "an exorbitant package of cash and stock worth around $2 million a month" to stay with the company.
According to a lengthy disclosure in the proxy statement, Mansfield's compensation change was largely related to how the company treats the vesting of his RSU awards after he announced he was going to retire:
The Compensation Committee believed the modification was appropriate given that Mr. Mansfield's compensation, like that of the other executive officers, is weighted considerably toward long-term equity awards, Mr. Mansfield was expected to perform services for a significant portion of the vesting period, and Mr. Mansfield was expected to contribute to several important projects during the transition period. The Committee believed that a modification of Mr. Mansfield's existing RSU award, rather than a grant of a new RSU award or cash bonus, was the appropriate incentive for Mr. Mansfield to continue providing services to the Company. Therefore, no other changes were made to Mr. Mansfield's compensation.

The Committee modified the vesting schedule of Mr. Mansfield's November 2011 RSU award so that the RSUs that would have vested on June 21, 2013 instead vest daily over the period from March 24, 2012 to June 21, 2013, subject to Mr. Mansfield's continued employment by the Company. The March 24, 2012 date was chosen because it was the most recent vesting date of an RSU award held by Mr. Mansfield.
With regards to the shareholders meeting, there will also be votes on six proposals related to compensation, director reelection and more. The proposals are detailed in the proxy statement, but there is nothing out of the ordinary in them.
The 2013 Annual Meeting of Shareholders will occur at Apple's 1 Infinite Loop headquarters on February 27, 2013 at 9AM.
(Tim Cook image via AllThingsD/Asa Mathat)