Apple is now carrying the Nest Thermostat in its retail stores through the United States and Canada. The development comes as Apple has been carrying it online for several months.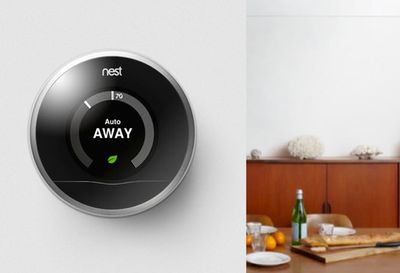 The Nest thermostat is priced at $249.95 in the U.S. online store and is just one of a number of products featured in Apple's App-Enabled Accessories section. The thermostat can be controlled via a free universal iOS app [App Store], with access to controls also available through web browsers.

The Nest Learning Thermostat helps you stop wasting energy, while providing control using your iPhone, iPad, iPod touch, or Mac. Consider that your thermostat controls about half your energy bill—more than TV, appliances, and lighting combined. But it's wasting energy every time it turns on the heating or cooling system in an empty house. The Nest Learning Thermostat solves this problem by programming itself, turning itself down when you're away, and keeping track of your energy use.
Apple features a number of such app-enabled products in its stores, including the iGrill cooking thermometer and Withings blood pressure monitor and body scale.