Passbook Proving Popular for Developers and Retailers
Passbook was one of the major features to debut in iOS 6, allowing companies to deliver items like tickets, loyalty cards, coupons, and gift cards to a centralized digital wallet for the iPhone and iPod touch. While the feature is a welcome addition that incorporates handy time and location awareness to help users gain access to their Passbook passes when needed, it falls short of a true digital wallet such as could be accomplished with hardware advances like near field communications (NFC).
Despite the limits on Passbook's utility so far, Wired reports that it is proving very popular with developers and retailers, many of whom are seeing significantly increased activity from their users due to the feature.
"We were amazed at the high uptake," Phil Easter, American Airlines' director of mobile apps said. "Apple has allowed an app developer like us is to put features right in front of the user where before, that space was off limits."
The report notes that American Airlines is now seeing 1.5 million active users of Passbook, with 20,000 passes being delivered to flyers every day.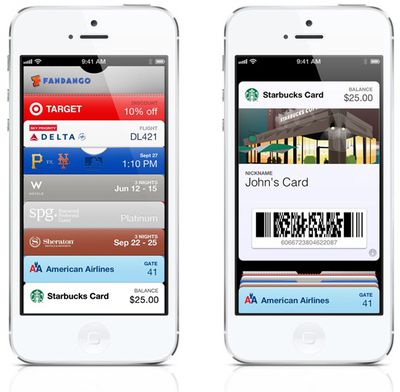 Cosmetics chain Sephora is also seeing strong Passbook adoption among its customers, with 375,000 users having added their rewards cards to the digital wallet app and others taking advantage of digital gift cards through Passbook.
"From a gift card standpoint it's very seamless," Julie Bornstein, senior vice president of Sephora Digital, told Wired. "You can send a gift card to a friend, they accept it, hit a link to add to their Passbook, and then they have their gift card right there." Customers also can scan a code on their conventional gift cards so they can add them to Passbook.
Some users are still experiencing difficulty getting familiar with Passbook, as in many cases they have to download a separate app to access their account with a given company and then push their rewards card, passes, or coupons over to Passbook, a process that isn't always intuitive.
Apple has long been rumored to be interested in integrating NFC technology into the iPhone, with patents and mainstream news sources providing strong evidence for the company's interest in it. But Apple has been taking a "go-slow approach" for the time being, opting to push Passbook as a middle ground while it watches to see how mobile payments evolve over time.