More Claims of NFC Capabilities in 'Coming Iteration' of iPhone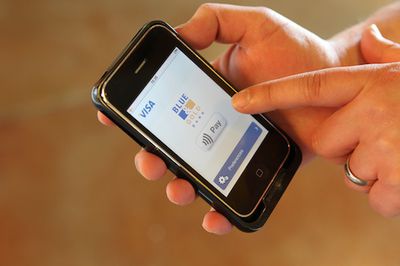 The New York Times reports
that Apple is in fact looking to deploy a new Qualcomm chip to bring Near Field Communication (NFC) capabilities to the iPhone, although the report stops short of claiming that the technology will appear in the fifth-generation iPhone presumably scheduled for launch in the June-July timeframe.
According to two people with knowledge of the inner workings of a coming iteration of the Apple iPhone - although not necessarily the next one - a chip made by Qualcomm for the phone's processor will also include near-field communication technology, known as N.F.C. This technology enables short-range wireless communications between the phone and an N.F.C reader, and can be used to make mobile payments. It is unclear which version of an iPhone this technology would be built into.
According to one source familiar with the implementation, the NFC technology would be harnessed to allow users to easily make mobile payments tied to their iTunes Store accounts.
Apple's interest in NFC and RFID technologies for mobile applications has been evident for some time based on patent applications and hiring moves, but exactly what the company plans to do with the technology and when it will implement it has remained unclear.
A report from last fall indicated that Apple plans to use it to create wireless "portable remote computing" platforms that could allow users to make their own applications and documents available on other computers. Meanwhile, one analyst claimed in late January that the NFC technology would finally make its appearance in the iPad 2 and iPhone 5, although now that the iPad 2 has been released it is evident that it lacks NFC capabilities.
Reports regarding NFC capabilities have begun to flow in earnest over the past week or so, with one claim that the technology has been pushed back from the iPhone 5 to the iPhone 6 being countered by a second "friend of a friend" report claiming that the iPhone 5 is expected to have the capabilities.
The new report from The New York Times provides little perspective on whether we can in fact expect NFC capabilities to appear in the next iPhone, but it seems clear that Apple is indeed working hard on the technology and seeking to tie it in to the company's massive database of credit card numbers linked to iTunes Store accounts.