iPhone 5 Launches in 33 New Countries Including China
In line with its announcement from earlier this month, Apple today launched the iPhone 5 in 33 new countries, with the most prominent member of the group being China.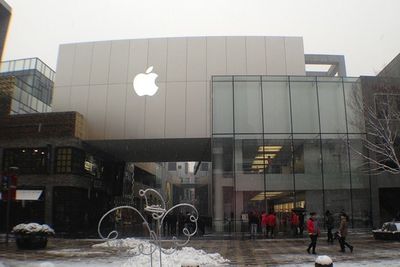 Unlike the chaos that reigned at the iPhone 4S launch earlier this year, The Wall Street Journal reports that the iPhone 5 appears to have been quite subdued. It is unclear, however, how much of the change may be due to lack of interest and how much may have been related to snowy weather and changes in Apple's sales policies designed to reduce scalping and other factors that have led to problems at previous launches.
Friday's iPhone 5 launch was notable for a different kind of white: a rare accumulation of fresh snow that blanketed the nearly empty plaza outside the Sanlitun store.

At 8 am on Friday, when the store opened to hurrahs from employees, only two consumers stood inside a cordon set up by Apple, though they were joined by a desultory snow man someone had made on a bench near the entrance.
Apple's new sales policies require customers to enter a lottery for the right to purchase an iPhone in the store, with winners being given specific windows of time in which to pick up their devices.
Fortune has also collected a handful of videos showing launches in China, Malaysia, and the Philippines that were part of today's major rollout in the following countries: Albania, Antigua and Barbuda, Armenia, Bahamas, Bahrain, Bolivia, Brazil, Chile, China, Costa Rica, Cyprus, Ecuador, Grenada, Indonesia, Israel, Jamaica, Jordan, Kuwait, Macedonia, Malaysia, Moldova, Montenegro, Panama, Paraguay, Philippines, Qatar, Russia, Saudi Arabia, South Africa, Taiwan, Turkey, United Arab Emirates, and Venezuela.