Microsoft Leaks References to 'Office Mobile for iPhone', 'Excel for iPad' and 'PowerPoint for iPad'
Building upon a series of reports about Microsoft's apparent efforts to bring its Office productivity suite to iOS, The Verge last month shared a few screenshots and noted that the suite would be offered in early 2013 as a set of free apps with viewing abilities that could be upgraded with basic editing tools through a Microsoft 360 subscription. Microsoft has, however, been rather cryptic in its public comments on the Office for iOS project, leaving a number of questions about just what the company's plans are.
As noted by Mac4ever, references to several Office for iOS applications have begun creeping into Microsoft's support site, albeit as product tags that appear to have been applied improperly to support articles.
One example is a document addressing custom numeric formats in Excel. On the support site for the United States, the document is listed as applying to Excel 2013, while on the French support site it is incorrectly listed as applying to Excel for iPad. Searches for similar phrases throughout Microsoft's support site yield a number of other references, including "Excel for iPad", "PowerPoint for iPad", and "Office Mobile for iPhone".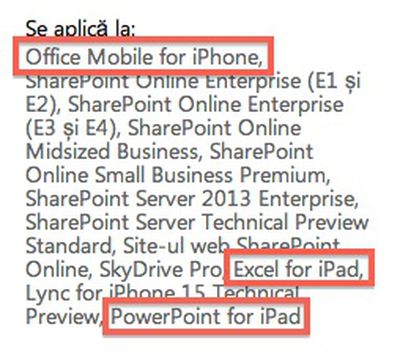 While the appearance of these new product tags doesn't offer any additional information on Microsoft's plans, it does seem to confirm the products' existence and that the company is working toward building out support site infrastructure for them ahead of their debut.