The Wall Street Journal reports that turnout for the launch of the iPad mini and fourth-generation iPad in China today was fairly low, with Apple's lottery system and two-per-person limits for in-person sales of the iPad mini said to be making it more difficult for scalpers to run their operations.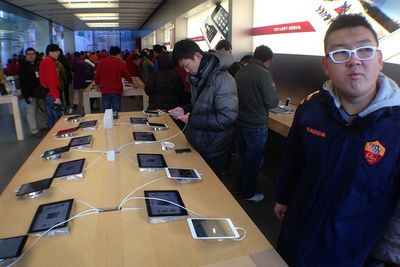 iPad mini on display at Apple's Sanlitun retail store in Beijing
The scalpers were still present, however, as the report notes that a number of them were set up some distance away from Apple's Sanlitun store in Beijing to collect units purchased by others.
On Friday morning, Apple's Sanlitun store opened to no crowds, but a large group of scalpers was standing a hop and skip from the store entrance collecting iPad Minis from Chinese customers in exchange for cash. Behind them, on a nearby bench, sat tall stacks of the devices.
A Wall Street Journal reporter was accosted by the scalpers after he tried to film the scene, but Apple and mall security declined to intervene in the situation.
Li Yongqiang, 18, said he wasn't picked in the lottery to purchase the iPad Mini but still arrived at 8:30 a.m. to observe the atmosphere. Mr. Li said scalpers met with a crowd of about a hundred outside the Apple store to discuss the process of purchasing the iPad Mini. The crowd appeared to be predominantly made up of customers there to purchase the product on behalf of scalpers, he added. It's not clear how the scalpers were able to get so many of their people selected for the lottery.
Apple continues to hold a dominant share of the tablet market in China as it does in many countries around the world, and with China now responsible for 15% of the company's revenue, Apple is no doubt hoping for strong sales of the latest devices heading into the end of the year.