Early iMac Reviews Praise Design and Display Enhancements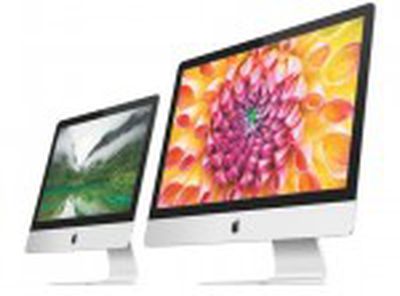 With Apple's new iMac going on sale today, the first reviews of the new machine are starting to arrive. The reviews come alongside some early teardown photos and benchmarks offering an early glimpse at Apple's redesigned flagship desktop.
CNET has a thorough review of the 27-inch model, which won't be shipping to customers for several more weeks, noting that while the design is the major change to the machine, iterative improvements on already impressive performance-related specs keep the iMac in solid position.
You might be alarmed by the fact that the design is the most interesting thing about the new iMac. A thin bezel is nice to look at, but it doesn't improve processing speed, workflow, or overall utility. Fortunately for Apple, it evolved that design from a computer with a strong technical foundation. It is the updates to that foundation, and a few points of polish along the way, that keep this iMac on elite footing.
CNET
's review machine, a souped-up $2599 model with 3.4 GHz Core i7 processor, 1 TB Fusion Drive, and NVIDIA GeForce GTX 680MX graphics, performed quite well in benchmark tests and features Apple's new display lamination process that greatly reduces reflectivity. The new iMac compares relatively favorably to Dell's XPS One 27 in many respects, with the Dell's touch capabilities and Blu-ray drive perhaps being significant factors in its favor for some users.
The Verge has also reviewed both sizes of the new iMac and was similarly impressed by the new display process being used by Apple.
The IPS panels are the same as in last year's iMacs, but they're better integrated now — Apple says that by laminating the display to the glass it reduced reflections up to 70 percent, and indeed the glare problems that beset so many displays are much less present here, though there's still some reflection and glare. The improved manufacturing also makes whatever's on the screen feel closer to you, almost like things are jumping out of the panel. The display's glossy bezel, which houses its HD FaceTime camera, is actually the most reflective part of the whole machine now.

I have to say, I was really surprised to see how much better the screen could be without a single change to the actual technology — but hey, I guess plastic surgery can work wonders. Both screens have fantastic color reproduction, are remarkably (like, blindingly) bright, and have near-180-degree viewing angles.
Overall, The Verge gives both iMac models scores of 9.0, noting that it is "still the best all-in-one device out there" but suggesting that the door is open for Windows 8 machines integrating advanced features like touchscreens and media center software to compete strongly with the iMac.