New iMac Benchmarks Show 10-25% Improvement Over Previous Generation
Primate Labs today posted a summary of the new iMac benchmarks hitting the company's Geekbench Browser, showing fairly strong performance increases over the previous generation of machines. The analysis focuses on the 21.5-inch models, as the 27-inch models are not launching for several more weeks, and the latest high-end 21.5-inch model scores nearly 25% higher than its 2011 counterpart and even bests the high-end 27-inch model from last year by nearly 10%.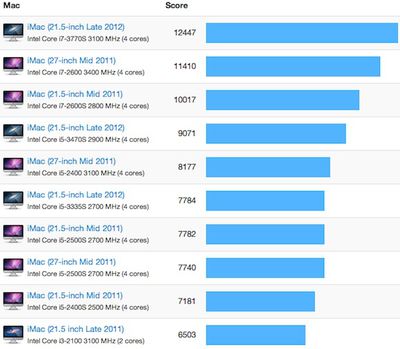 The report also pits the new 21.5-inch iMac against the current generations of Apple's other two desktop lines, the Mac mini and Mac Pro. The comparison to the Mac mini reveals that users can achieve nearly the same performance as the mid-range iMac by purchasing a high-end Mac mini, although customers would obviously have to supply their own displays and other peripherals.
What's interesting here, though, is how the quad-core Core i5 iMacs perform compared to the quad-core Core i7 Mac minis. Since Core i7 has hyper-threading technology (and the Core i5 does not), it can execute more instructions at once, leading to higher performance.

Here this means that the mid-range Mac mini is faster than the mid-range iMac that's almost twice the price. True, you do get a display and a discrete GPU with the iMac, but these Geekbench results show how powerful the new Mac mini is despite its size.
As for the Mac Pro, which is still stuck on older-generation processors rather than adopting Intel's Sandy Bridge E chips, the new iMac is now on par with all but the high-end 12-core Mac Pro models.
As for the new 27-inch iMac, a handful of Geekbench results have already appeared in the database running a special Build 12C2037 of OS X 10.8.2. The results indicate that an early benchmark that appeared in mid-May was indeed accurate and indicate that the new high-end 27-inch model will outperform its 2011 counterpart by nearly 15%.