Nokia Launches Free Mapping Alternative for iOS: 'HERE Maps'
Last week, Nokia announced that they would be launching extending its mapping service to iOS with a new free app. Nokia's new HERE Maps app for iOS launched last night, promising offline mode, transit and walking directions:
HERE Maps helps you feel like a local anywhere you go. See where you are, search and discover nearby places, and get a feel for the place. Collect places to remember or for later discovery. Explore new destinations and know instantly how to get there on foot, by car or on public transport. HERE Maps is based on the world-class NAVTEQ mapping data used in 90% of in-car navigation systems in the world.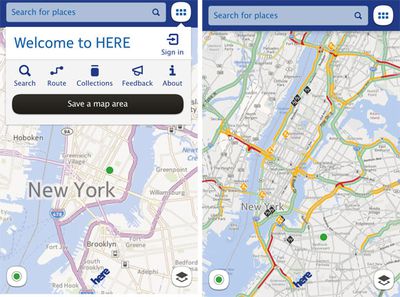 Features include:
• Map views – Pick the map you need from map view, live traffic view, public transport line view or satellite view
• Save map areas & wander without data coverage
• Maps, search and place coverage for nearly 200 countries
• Step-by-Step voice-guided walk navigation
• Walk navigation through pedestrian routes, parks, alleyways, and more
• Public transportation and driving directions
The Verge spent some time with the new app, and came away with mixed impressions.
Obviously this is Nokia's first stab at an iOS client for its new mapping service, and in many ways it's more functional than Apple's native Maps client, but for now, many of the additional features don't work as well as they ought to.
Nokia's iOS map launch is significant due to the issues many users have had with Apple's Map application that ships with iOS 6. Apple's solution has drawn considerable criticism due to incomplete data and poor coverage in many areas.
Nokai's HERE Maps is available as a free download from the App Store [iTunes link].