Modbook Pro Gains Pen, SSD, and RAM Upgrades Ahead of Launch
Back in June, one of the founders of the "Modbook" project to develop an OS X tablet based on the internals of a MacBook, announced that he was bringing back the concept with a new Modbook Pro product scheduled for launch in late 2012.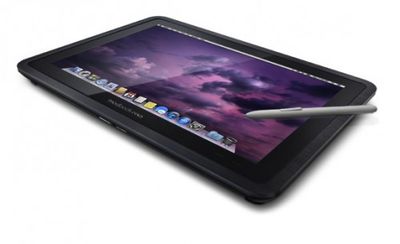 Pre-orders for the Modbook Pro, which starts at $3499, went live in early October with a launch target of mid-November. With the release timeframe now approaching and Modbook seeing strong customer response, the company has announced upgraded specs for the Modbook Pro, with all pre-order customers receiving a free upgrade to the new base specs. The launch of the Modbook Pro is also now targeted for late this month.
Beginning immediately, we're doubling the pen pressure levels on the Modbook Pro from 512 to 1,024. At 1,024 levels, the Modbook Pro — which sports a state-of-the-art Wacom Penabled pen tablet digitizer — will now have four times the industry standard of 256 for pen-based tablets!

This dramatic enhancement in pen capability will give Modbook Pro users extraordinarily precise and subtle control of renderings and underscores the Modbook Pro's usefulness as a portable content-creation platform.
In addition to the improved pen capabilities, the base Modbook Pro will also see a RAM boost from 4 GB to 8 GB and a solid-state drive boost from 64 GB to 120 GB using a faster asynchronous drive.
The Modbook Pro starts at $3499 and can be configured with additional processor, RAM, and storage options.