Unofficial Lightning USB Cables and Adapters Launching Soon at Significant Discounts
Earlier this month, we pointed to a new iPhone 5 Flash Lightning Dock from iPhone5mod.com, one of the first unauthorized Lightning-equipped products to surface on the market. At the time, iPhone5mod told us that it was using genuine Lightning connectors sourced from Apple's supplier, but noted that it also had cracked versions that were working properly.
The company is now pressing forward with its efforts to release accessories based on these unofficial Lightning connectors to the public, introducing a new Lightning to USB cable.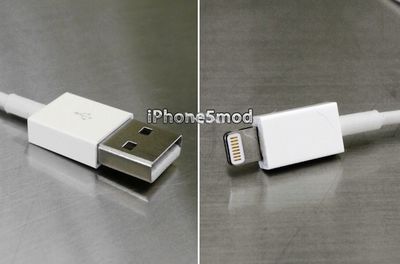 iPhone5mod's cable is priced at $9.90, nearly 50% less than the official $19 cable from Apple. Shipping for iPhone5mod's cable starts at $4 per item to the United States.
iPhone5mod tells us that orders will begin shipping on November 3.
The company has also introduced its own version of Apple's cabled Lightning to 30-pin Adapter. iPhone5mod's version is priced at $19.90 plus $4 shipping to the U.S., compared to Apple's $39 price tag.
Finally, iPhone5mod is launching what it calls a Lightning 3-in-1 Starter Kit Set, bundling a USB cable, 30-pin adapter, and a Lightning dock for $39.90 plus $7 shipping to the U.S.
Both items are currently being quoted 10-14 days processing time plus international shipment, which can take a fair amount of time at the cheapest rates.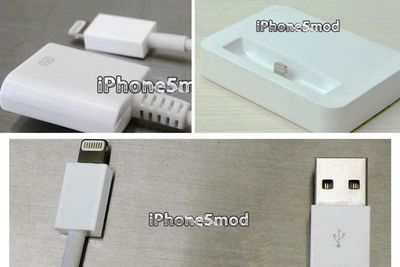 iPhone5mod's Lightning 3-in-1 Starter Kit
A
chip-level teardown
of Apple's official Lightning cable has revealed that while the connector does require several chips to handle the dynamic assignment of the eight contact pins, it does not appear to contain any true authentication features to prevent unauthorized connections from being made. At best, a Texas Instruments chip found in the connector provides only basic security in the form of a cyclic redundancy check (CRC) to ensure data integrity.
Apple is reportedly keeping tight control over official Lightning connectors, and has yet to officially certify any third-party accessory company to manufacture Lightning products. Apple will be holding a conference with members of its MFi Program early next month to provide details on Lightning integration.