Apple's Lightning Cable Contains TI Chip 'Likely' to Have Security Features
Apple's new Lightning connector introduced on the iPhone 5 has generated a significant amount of interest, both from a usage standpoint as the company abandons its nearly decade-old 30-pin dock connector and from a technical perspective. On the technical side, the new Lightning connector uses adaptive technology to enable it to perform a variety of functions with just eight contact pins, dynamically assigning pin functions to suit a given situation.
One other aspect of the Lightning connector that has generated interest is whether Apple has also incorporated some sort of authentication functionality into the handful of chips found inside the Lightning connector assembly in order to inhibit third parties from manufacturing unlicensed cables. Scattered reports have indeed indicated that Apple has included authentication features in its cables, but companies have reportedly already cracked the security feature.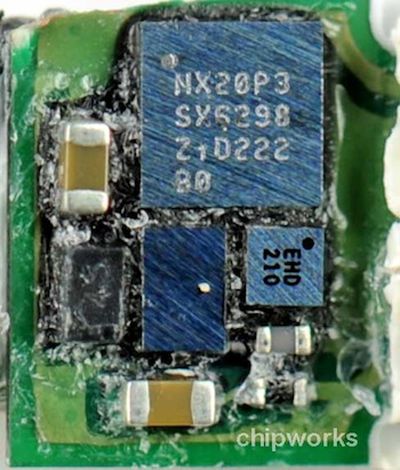 Chips inside Lightning connector assembly
Chipworks has now
taken a closer look
at the chips found inside the Lightning to USB cable, highlighting a Texas Instruments (TI) chip that seems "likely" to include a security feature. While the exact "BQ2025" chip used in the cable is not documented in TI datasheets, four other chips with very similar part numbers are documented.
These four chips are cataloged on TI's website as battery fuel gauges, but they are not identical, with three of them being serial EPROMs and one of them being a battery monitor IC.

However, all four do have some common characteristics. All use a single wire SDQ interface (TI's proprietary serial communications protocol), and all have some basic security features such as CRC [cyclic redundancy check] generation. So, it is certainly likely that the BQ2025 does have some security implemented on it. It would also seem likely that it includes an SDQ interface.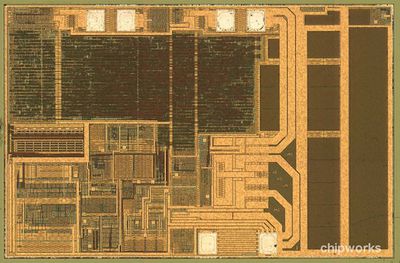 Die photo of TI's BQ2025 chip
Further investigation of the layout of the chip is consistent with a communication chip employing some "simple security features", and Chipworks notes that this seems to be the first time the firm has found such security features in a cable. CRC does not, however, serve to authenticate connections and is instead primarily used to check for errors in data transmission.
The security does not come close to the herculean approaches that are used in (for example) today's printer cartridges, but resembles the level of effort that cartridge manufacturers used to implement in the olden days. This is likely a calculated decision by Apple to keep costs to a minimum knowing that their core customer base prefers to shop in Apple stores or for brand name peripherals. In these places, piracy is not a concern. In other words, at this time the security is "just enough."
Many users have been frustrated by Apple's tight control over the Lightning standard, a grip that has slowed accessory companies as they are still waiting to receive instructions from Apple and to have their facilities certified by Apple under the Made For iPad/iPhone/iPod (MFi) program. In the meantime, unauthorized third-party manufacturers are likely to begin filling the void.