Apple's Lightning Authentication Reportedly Cracked, Unauthorized Third-Party Cables Coming
Chinese firm iPhone5mod has introduced (via M.I.C. gadget) a new iPhone 5 Flash Lightning Dock, marking one of the first claimed efforts to implement Apple's Lightning connector standard on a mass production basis. The move comes as Apple has been maintaining tight control over the standard and has yet to authorize any third-party manufacturing facilities to produce Lightning-equipped products.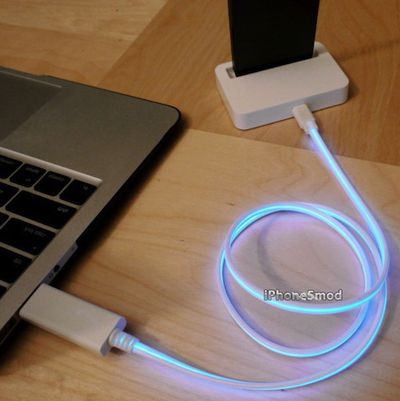 iPhone5mod is actually offering the dock in two parts: a lighted USB-to-Lightning cable and a white dock similar to Apple's previous-generation docks but which accepts a Lightning cable in the rear and offers a Lightning connector for interfacing with the device. Each part is offered individually for $19.90, or together for $39.90.
We spoke with representatives of iPhone5mod, who informed us that they are currently using original Lightning controller chips from Apple's supplier, ensuring proper functionality. The chips serve to assist with
dynamic assignment of pin functionalities
in the connector and converting signals received through the connector for output at the other end of the cable.
iPhone5mod did, however, inform us that they have also obtained cracked chips that bypass Apple's authentication functions and that the cracked chips are working just as well as the original chips, suggesting that we may soon see a significant increase in unauthorized third-party Lightning accessories.