Apple Meeting With Accessory Makers to Promote Lightning Integration
Next month, Apple will meet with accessory makers in Shenzhen, China to discuss integration of the new Lightning connector in third party products, according to a report from TechCrunch. The MFi Program allows manufacturers to obtain the hardware components necessary to connect iPhones, iPods and iPads to third party docks, cars, and other such devices.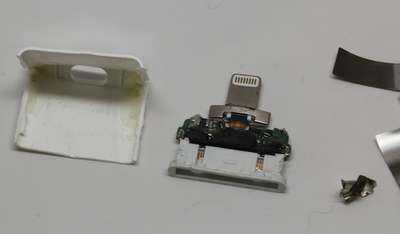 However, in a change from the previous dock connector, TechCrunch says Apple will be keeping very tight control of the new Lightning connector:

One of those new rules, according to one of our sources close to the program, is that Apple's Lightning pin supply is controlled by the company itself, and it supplies approved MFI partners with production quantities of the pin once their product is determined to have met its standards and specifications. It sells them in volume, and our source says the pricing is actually very fair when you consider the advanced technology involved in the connector's construction.
An earlier teardown of the Lightning connector showed some specialized hardware inside the connector itself, including chips that could be used for security.
That said, Chinese companies are said to have cracked the security protocols already, and are in the process of ramping up Lightning component production. The meeting, reportedly scheduled for November 7 and 8, is a first step towards development of new Lightning-compatible products.
Apple did say during the iPhone 5 launch event that some companies including Bose, JBL, B&W and B&O were already working on devices compatible with the new connector. However, we haven't heard any concrete availability dates for new Lightning-compatible devices.