EPEAT Verifies Retina MacBook Pro Eligibility for Environmental Registry
Four months ago, Apple pulled its products from the Electronic Product Environmental Assessment Tool (EPEAT) registry, with sources indicating that Apple's design direction for its increasingly thin mobile products was incompatible with EPEAT's criteria for "disassemble-ability" and other factors. Just a week later, Apple responded to significant criticism of the move by placing "all eligible products" back on the registry and issuing a letter from senior vice president Bob Mansfield acknowledging that their removal was a "mistake" for the company.
With Apple's products back on the registry, some observers were surprised to note that Apple's new Retina MacBook Pro was included, given that it had been the subject of criticism for recyclability issues, with the strong glue used to affix the battery to the casing being of particular concern. It was quickly noted that manufacturers grade themselves against the EPEAT criteria, and thus some believed that EPEAT's review of the grading would ultimately result in the Retina MacBook Pro losing its status on the registry.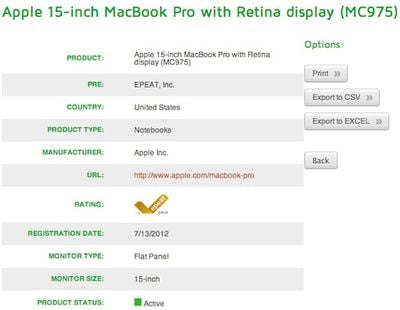 Last Friday, EPEAT issued a press release stating that it had performed verification studies on "ultrathin" laptops from four manufacturers, including Apple, and found that all of the tested models did indeed meet registry eligibility requirements. At the time, it was unclear which Apple models were included in the study, and we assumed that the ultrathin designation only addressed the MacBook Air, which has been deemed eligible for the past several generations.
Consequently, fresh verification of the MacBook Air was not necessarily a surprise, although EPEAT did find it necessary to both clarify the definition of "commonly available" tools for disassembly or upgrades and note that an expansion port such as Thunderbolt or USB is sufficient to contribute toward meeting the criteria of upgradeability.
iFixit's Kyle Wiens has, however, now confirmed to MacRumors that the EPEAT verification testing did indeed include the 15-inch Retina MacBook Pro, which the group is classifying as an ultrathin notebook despite the fact that it is substantially thicker and more powerful than the MacBook Air. In an opinion piece published at Wired today, Wiens addresses the impact of the decision, calling the new clarification of the EPEAT standards "greenwashing":
Apple's Retina MacBook Pro – the least repairable, least recyclable computer I have encountered in more than a decade of disassembling electronics – was just verified Gold, along with four other ultrabooks. This decision demonstrates that the EPEAT standard has been watered down to an alarming degree. [...]

At best, the interpretation of the EPEAT Gold standard is laughably out of touch. At worst, it means recyclers a decade from now may be faced with a mountain of electronic waste they cannot affordably recycle without custom disassembly fixtures and secret manufacturer information.
Wiens goes on to provide an overview of how development of EPEAT's standards is weighted toward computer industry companies and how this has watered down the environmental criteria for the products.
Unfortunately, getting highly specific language into a standard like EPEAT is challenging because manufacturers claim it limits future innovation. So when language does finally make it into the standard, it's critical to rigorously enforce it.

Where language is ambiguous, decisions must consider the goals of the standard, or risk negating its purpose entirely. The updated definitions systematically weaken the 1680.1 standard.
Apple's design direction is clearly weighted toward building products that are as slim and light as possible, using custom and proprietary components to achieve its goals at the cost of upgradeability and repairability. For most consumers who never see fit to upgrade their computers, the tradeoff is an acceptable, or even desirable, one. But for those who seek to keep their computers running as long as possible before purchasing a new machine, and even for any users interested in end-of-life recyclability of their products, Apple's tactics are undoubtedly cause for concern.