Increased iPhone 5 Quality Control Standards to Address Scratches Slowing Production
Bloomberg takes a look at the situation surrounding scratching and scuffing of the iPhone 5's aluminum shell, an issue we noted just hours after the device's launch. According to today's report, Apple has indeed increased quality control standards to reduce the number of devices that are delivered with scratches right out of the box, but the move has slowed production on the new iPhone.
The scrapes, which sparked complaints with the iPhone's debut last month, are due to Apple's decision to use a type of aluminum that helps make the smartphone thinner and lighter. Senior Apple managers told executives at Foxconn near the end of September to tighten production standards, said the person, who asked not to be named because the matter was private.

Stricter benchmarks have hampered production of the iPhone 5's anodized aluminum housings, forcing Foxconn's Hon Hai Precision Industry Co. to idle factories, the person said.
Specifically, the report claims that Foxconn had to halt assembly work at one of its plants on October 6 because of a lack rear shell parts.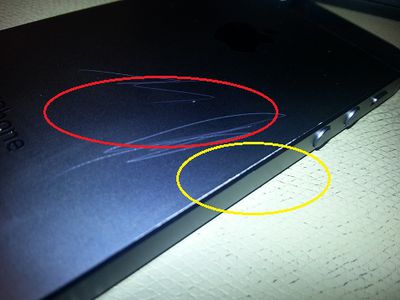 Intentionally scratched black iPhone 5 showing silver color underneath
The tightened quality control standards have increased stress on workers responsible for manufacturing the parts, with Foxconn employees interviewed for the story noting that every single step of the manufacturing and assembly process has the potential to scratch the soft metal, resulting in a significant number of the metal iPhone bodies not making it through the process cleanly.
The increased tensions among workers reportedly led to thousands of Foxconn workers briefly going on strike over the issue late last week, although Foxconn denied that there was any such action.