Apple's A6 Chip Confirmed to Carry Triple-Core Graphics
As part of its report on Apple's custom ARM chip design for the A6 found in the iPhone 5, AnandTech speculated that the improved graphics performance in the iPhone 5 was achieved through the use of a triple-core PowerVR SGX 543MP3 graphics processing unit (GPU) rather than doubling the clock speed of the dual-core SGX 543MP2 found in the A5 or using the quad-core SGX 543MP4 found in the A5X for the third-generation iPad.
The [SGX 543MP3] is sort of the best of both worlds. You don't take a huge die area penalty and at the same time don't run at a significantly higher frequency, and you can get to that same 2x value.

The [SGX 543MP3] option is the most elegant and likely what Apple chose here.
AnandTech has now followed up with a new report based on fresh images from UBM TechInsights showing the layout of the A6 with three graphics cores as had been predicted.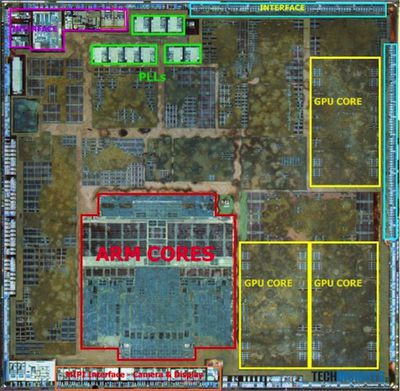 The image above shows two 32-bit LPDDR2 memory channels and three GPU cores. We're likely looking at a PowerVR SGX 543MP3 running at 266MHz.

UBM estimates the die size at 95.04mm2 and the manufacturer as Samsung.
More information and analysis on the A6 will undoubtedly be forthcoming as UBM TechInsights continues its work, but the first glimpse inside Apple's custom chip design for the iPhone 5 demonstrates how the company has been able to balance processing power needs with die size constraints to achieve significant performance gains for the iPhone 5 compared to its predecessors.