Business Insider reports
on a new research note from Canaccord Genuity analyst Michael Walkley claiming that Samsung's flagship Galaxy S III has surpassed Apple's iPhone 4S to become the top-selling smartphone in the United States. Walkley's data shows the iPhone 4S continuing to lead at AT&T during August but falling to second at Sprint behind the Galaxy S III and third at Verizon behind the Galaxy S III and the Motorola RAXR MAXX. The Galaxy S III is also on top at T-Mobile, which does not officially offer the iPhone.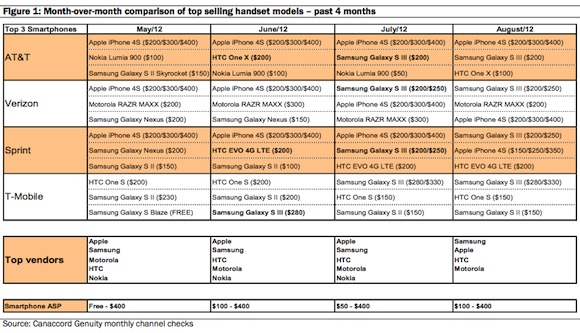 Click for larger
The shift is due to a combination of factors, partly strong performance by Samsung with its new flagship smartphone launched in June and partly weakness on the part of the iPhone as consumers begin to hold off in anticipation of the iPhone 5 set for later this month following an introduction next week.