Photos of Partially Assembled Next-Generation iPhone Show Component Layout, Thickness Comparison
Last week, we shared photos of the leaked dock connector and headphone jack for the next-generation iPhone paired with a leaked rear shell for the device, demonstrating that the independently-obtained parts are indeed compatible and giving a good overview of what the bottom of the device will look like.
Sohu now posts (via Nowhereelse.fr) a new set of photos of parts for the next iPhone, including a photo showing a number of components placed into their proper positions within the rear shell. The flex cable housing the external buttons, the SIM tray, and dock connector/headphone jack flex cable can all be seen in the photo. Much of the remainder of the interior of the device will be taken up by the battery and logic board, which would be installed on the left and right sides respectively.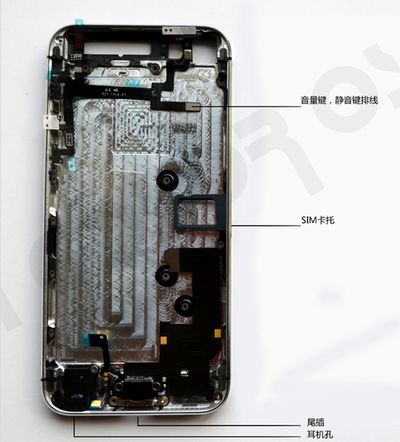 Parts repair firm iResQ published a set of photos with a similar theme earlier this week, installing the bare components into their proper positions in the rear shell.
The photos from Sohu also show an assembled front panel for the next-generation iPhone placed onto this partially assembled rear shell, giving a good look at the overall appearance of the device. Photos of a similar assembly appeared a month ago, but these new photos offer a fresh perspective on the complete device, comparing it to the iPhone 4 and 3GS and giving a good look at the comparative thickness of the three devices.


One final tidbit comes from iLab Factory, which posts a photo of the silver rear shell of the white next-generation iPhone but with black strips at the top and bottom for the antennas. All other photos of the rear shell from the white device seen to date have contained white strips.