Apple's Annual iTunes Festival in London Moves to September
Each July since 2007, Apple has held its iTunes Festival in London, offering a month's worth of free concerts from some of the industry's top performers. Apple is now beginning to unveil this year's plans, and the most notable change for 2012 is a move to the month of September.
For the fourth consecutive year, the iTunes Festival will be held at The Roundhouse in London, with at least 60 acts performing over the 30 nights of the festival. Five acts have been announced so far: Usher (September 1), Emeli Sandé (September 5), Jack White (September 8), Norah Jones (September 10), and One Direction (September 20).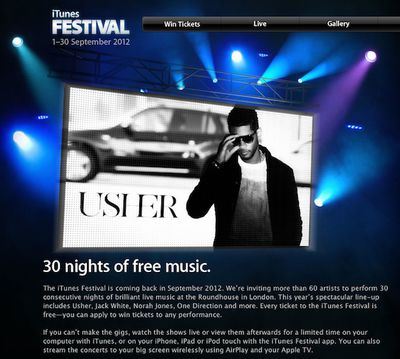 Free tickets are available through a lottery system to residents of the UK, Ireland, France, Germany and the Netherlands, and Apple will also be streaming live video of the concerts directly through iTunes on the desktop or through a dedicated mobile app. The app appears to currently be limited to customers in the UK, and the company notes on its international site for the festival that it will announce streaming options in other countries in August.
Apple also typically releases a number of live EPs and albums from the shows, available for purchase through the iTunes Store.