'iPad Mini' Cases Consistent with Rumored Design Details
GizChina points to several case designs for the upcoming 7.85" iPad Mini. The new smaller iPad has been rumored to be launched later this year. The most recent rumors have suggested the new device will look closer to a large iPod touch, than a smaller iPad. Specifically, the side bezels are expected to be narrower as shown in the previous rendering.
Some case manufacturers seem to be taking similar dimensions into account with new case designs intended for the 7.85" iPad. As shown here, the side-bezels are much narrower than the top and bottom. The case designs also show off the Facetime Camera and a hole for the rear camera.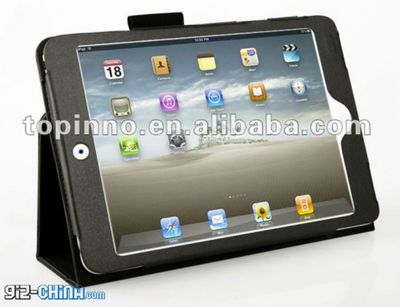 The iPad depicted within the case shows the new smaller dock connector, but those device images tend to be rendered mockups based on circulating expectations. In the past, the case designs themselves have been sourced from leaked/stolen specifications of the upcoming Apple device.
Other images show the usual microphone opening at the top of the device, though there is also an extra upper-back opening, the purpose of which isn't clear.