Eddy Cue Worked to Convince Steve Jobs of Need for 7-Inch iPad in Early 2011
Back in October 2010, Steve Jobs appeared on an Apple earnings conference call to address the Android-based iPad competitors that were just then coming to the market. With the majority of those tablets carrying 7-inch displays, Jobs noted that the screens were only 45% as large as the iPad's and that Apple believed the iPad's 9.7-inch display was the minimum necessary for an acceptable user experience.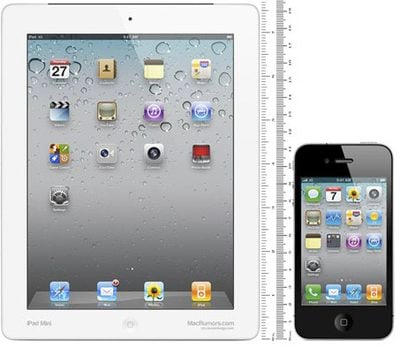 Mockup of 7.85-inch "iPad mini" next to an iPhone (courtesy of CiccareseDesign)
With rumors of an "iPad mini" having circulated since that time and now appearing to gain traction with more prominent sources beginning to point to a launch later this year, interest in the potential device has continued to build. Supporting the idea of a 7-inch tablet,
Wired
's Christina Bonnington notes that part of iOS software chief Scott Forstall's testimony in the Apple-Samsung patent trial has revealed that content chief Eddy Cue was
pushing
for a 7-inch iPad by January 2011.
In email, Eddy Cue wrote "I believe there will be a 7-inch market and we should do one." referring to a 7-inch iPad
CNBC's Jon Fortt reports that Steve Jobs was evenutally won over by arguments in favor of the smaller iPad.
Apple internal email shows Eddie Cue advocated in 1/11 for 7" iPad, said Steve Jobs seemed receptive most recent time
iMore, which has offered reliable information on a number of topics in recent months, claimed earlier this week that Apple's September 12 media event that has been all but confirmed by numerous mainstream media reports will see the introduction of both the next-generation iPhone and the iPad mini. Other reports have been less clear on the timing for an iPad mini launch, but many believe that it will launch in time for the holiday shopping season.
Update: CNET posts the full email sent by Cue to other senior executives at Apple:
Having used a Samsung Galaxy, I tend to agree with many of the comments below (except moving off the iPad). I believe there will be a 7" market and we should do one. I expressed this to Steve several times since Thanksgiving and he seemed very receptive the last time. I found email, books, facebook and video very compelling on a 7". Web browsing is definitely the weakest point, but still usable.