Retina MacBook Pro Shipping Estimates Improve to 5-7 Business Days
Just a day after Apple added new build-to-order configuration options to the low-end Retina MacBook Pro, shipping estimates have improved from 1-2 weeks to 5-7 business days in the company's online stores. The faster turnaround time is showing up in the company's online stores in the Americas, and should spread to its Asia-Pacific and European distribution channels shortly.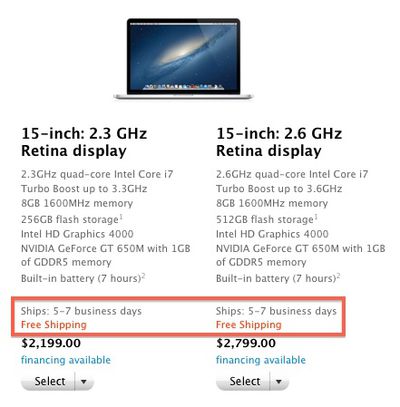 Shipping estimates for the Retina MacBook Pro quickly ballooned to 3-4 weeks within 36 hours of the machine's introduction in June, holding at that level until mid-July before beginning to come down. The most recent improvement before today came nearly two weeks ago when estimates moved from 2-3 weeks to 1-2 weeks.