Retina MacBook Pro Shipping Estimates Improving to 1-2 Weeks
Just a little over a week since shipping estimates for new Retina MacBook Pro orders through Apple's online store saw their first improvement from 3-4 weeks to 2-3 weeks, timeframes have again been reduced. As with the previous improvement, the change has first appeared in Apple's Asia-Pacific markets, which have seen shipping estimates drop to 1-2 weeks.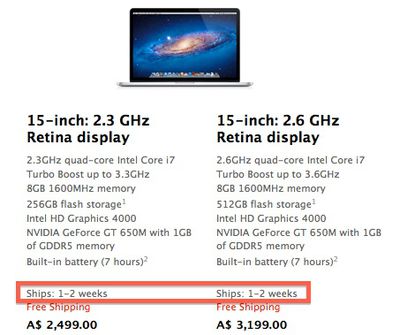 Shipping estimates in Apple's other main distribution regions of the Americas and Europe/Middle East/Africa are holding steady at 2-3 weeks for the time being, but they will almost certainly see similar drops to the 1-2 week timeframe in the very near future.
Shipping estimates for the Retina MacBook Pro peaked at 3-4 weeks roughly 36 hours after the models were unveiled at last month's Worldwide Developers Conference, with estimates remaining at that level until last week's drop to 2-3 weeks. Availability at other online and brick-and-mortar retailers is also improving, in many cases beating Apple's online store estimates for stock models, but the company's online store is the primary source for customized orders.
Update: Estimates in Apple's online stores in the Americas have also moved to 1-2 weeks.
Update 2: Apple's European stores have now also seen improvement to 1-2 weeks.