Apple Expands Build-to-Order Configuration Options on Retina MacBook Pro [Updated]
Apple today quietly expanded the available configuration options for the Retina MacBook Pro, now offering a full slate of individual upgrade options on the base model that starts at $2199. Previously, customers who opted for the base model were locked into a 2.3 GHz Core i7 processor and 256 GB of flash storage, with the only configurable onboard option being a $200 RAM upgrade from 8 GB to 16 GB. Customers looking to boost either the CPU or storage were required to step up to the high-end $2799 model, which offers both a 2.6 GHz i7 processor and 512 GB of storage, with additional upgrades beyond that.
Apple is now offering all available upgrades on the low-end model, giving customers full control over their configuration needs. For example, users who want to upgrade storage on the low-end model can now do so with 512 GB ($500) and 768 GB ($1000) standalone options that do not also require an upgraded CPU. Similarly, users interested in boosting the base 2.3 GHz CPU to the 2.6 GHz chip can now do so on the base model for just $100 without having to step up the full $600 to the high-end model with both CPU and storage upgrades.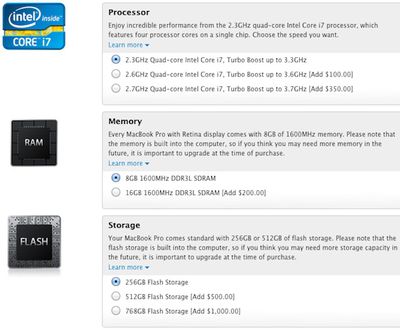 Apple continues to quote 1-2 week shipping estimates for the Retina MacBook Pro as the company continues to try to keep up with demand.
Update: Some readers have noted that selection of the new CPU and storage options on the low-end model does not seem to register with the online store system. Typically, changing options results in live updating of the price and shipping estimates during the configuration process, but changes to the CPU and storage are not having that effect. Consequently, customers are unable to place orders with these new custom configurations on the low-end model.
Update 2: Within minutes, Apple has now pulled the new configuration options entirely, once again leaving RAM as the only available onboard hardware upgrade for the low-end model.
Update 3: There are now conflicting reports on whether or not the new options have been pulled. Many readers are reporting still seeing the options and are able to add the configurations to their shopping carts, while others viewing the same pages are not seeing the new options.
Update 4: The new configuration options are now appearing more consistently, and Apple has also added the ability to have individual iWork apps preinstalled. With the move to the Mac App Store, it is not difficult for users to obtain the apps on their own, but some customers will undoubtedly prefer to have their machines as ready to go as possible upon delivery.