Apple's Thunderbolt to FireWire Adapter Rolling Out in Online Store
Alongside the introduction of the Retina MacBook Pro last month, Apple also announced two adapters to allow users to add Ethernet and FireWire 800 capabilities to the machine through its Thunderbolt ports. But while the Thunderbolt to Gigabit Ethernet Adapter was available immediately, Apple's tech specs page for the Retina MacBook Pro has listed the FireWire adapter as launching in July.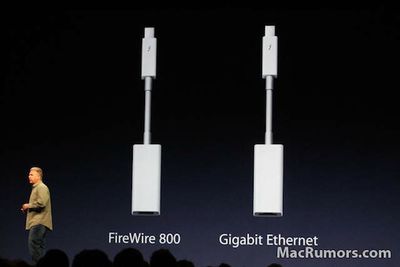 Just as the calendar rolls over into August, Apple now appears to be making the Thunderbolt to FireWire Adapter available in its online store with a $29 price tag and a shipping estimate of 1-3 business days.
As with the new Retina MacBook Pro configuration options, users are experiencing intermittent success in viewing the new adapter in the store, with some users able to view the adapter while others simply see a "page not found" error. The issue is almost certainly related to caching, and all users should hopefully be able to see the adapter shortly.


Dutch site One More Thing reported earlier this week [Google translation] that one of its readers had sent an email to Apple CEO Tim Cook asking about the status of the adapter, with Cook simply replying "Tomorrow", suggesting that Apple would just barely make its July shipping estimate.