Apple Already Pursuing Minor Expansion at North Carolina Data Center
Back in March, the Hickory Daily Record noted that Apple had filed for building permits related to a "tactical data center" to be located at the site of the company's existing data center in Maiden, North Carolina. Our research at the time indicated that the facility was a relatively small building of roughly 20,000 square feet, but it was unclear exactly what it was to be used for.
The Hickory Daily Record now follows up with a new report sharing more details on Apple's plans as culled from additional building permits and planning documents filed in recent weeks.
According to Apple's design plans on file with Catawba County, the new 21,030-square-foot data center, also referred to as a "tactical" data center, will store clusters of servers. Permits filed with the county list the cost of the new 11-room data center at $1,885,129. [..]

The building will have, what appears to be, tight security measures even though it will be located on a site that already has tight security. The building will be equipped with "man trap" security doors at either end that will force a person to be cleared to go through an additional second door to get inside the main building space. The building also will be surrounded with an 8-foot-high chain-link security fence, according to architectural plans.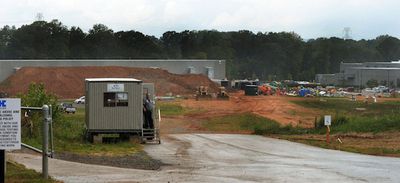 New construction at Apple's Maiden, North Carolina data center (Source: Jeremy Detter/Hickory Daily Record)
Apple's plans for the site ultimately include
two 500,000 square-foot data center buildings
, only one of which has been constructed. Today's report indicates that this new tactical data center, a separate project, will be adjacent to the existing data center without impinging upon space set aside for the second major building.
The architectural site plans show the small data center t-boned to the 500,000-square-foot existing data center. The plans still show the footprint for a larger data center that would run nearly parallel to the existing one and would t-bone the smaller one currently under construction.
Data Center Knowledge takes a closer look at Apple's plans, suggesting that Apple is deploying a modular facility in order to rapidly increase the server capacity at the site, something the company is already doing at its Prineville, Oregon site in advance of more permanent construction.
The building permits for the new Apple tactical MDC don't name a particular provider. But Apple is currently deploying modular data centers from NxGen Modular at its new data center in Prineville, Oregon. NxGen has developed next-generation modular designs, with pre-fabricated components that can be assembled into a complete data center, complete with power, cooling and mechanical rooms.
Apple has yet to comment on its intentions for the new tactical data center facility in Maiden, but the project comes as Apple is pursuing major expansions of its server capabilities in North Carolina, Oregon, and Nevada to help support iCloud and other ventures.