New Evidence of Apple's Plans for a Second Data Center Building at NC Site
We've reported a couple of times over the past few days about the imminent opening of Apple's North Carolina data center and rumors that the company is already considering doubling the size of the facility.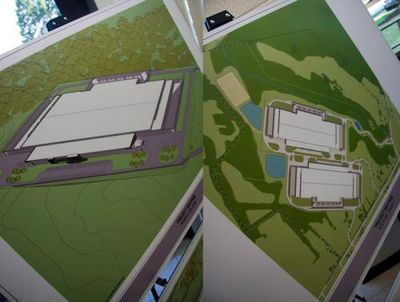 All Things Digital
has
continued digging
into the story and discovered a
photo
posted to the official Flickr page of Catawba County, North Carolina showing a schematic of the facility containing two buildings instead of the single building that exists today. The image, which dates from July 2009, suggests that Apple has intended to double the size of the existing facility all along, rather than the decision being a recent one.
The discovery also raises the question of the size of the current facility. Public disclosures regarding the facility have always referred to it as a 500,000 square-foot project with a price tag on the order of $1 billion. Consequently, rumors of a doubling of the data center's size assumed that that would bring the facility to a total of one million square feet. It seems possible, however, that the publicized figures in fact referred to the total project with both buildings completed, and thus the current building set to begin operation may only be 250,000 square feet.
Update: One MacRumors reader has performed a rough overlay of Apple's schematic with Google Maps satellite imagery of the area, determining that each building contains a footprint of roughly 500,000 square feet.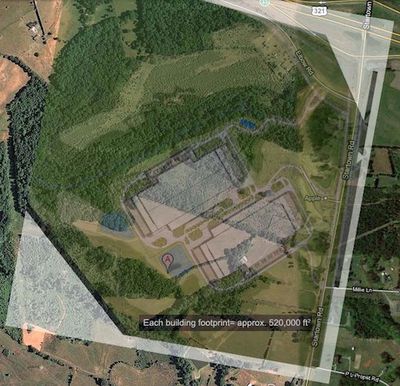 Update 2
: A building schematic included on an
assessment report
for the property appears to show that the initial building includes just over 500,000 square feet of space in three separate components, surrounded by just over 140,000 square feet of "masonry patio" aprons for loading bays and other functions.