Despite being located in the largest shopping mall in the United States as measured by leasable square feet, Apple's King of Prussia retail store at the King of Prussia Mall outside of Philadelphia is nothing special by Apple's standards, occupying a fairly small amount of space with just 30 feet of frontage inside the mall. The store is one of the older ones in Apple's chain, having opened in November 2002.

Construction document identifying Apple as tenant of space 1311 at King of Prussia Mall
That will be changing within the next few months, however, as
MacRumors
has received a few details on a new space Apple will be occupying in a redeveloped section of the mall. According to construction documents, Apple's new location in space #1311 will measure nearly 10,000 square feet and occupy an L-shaped footprint within the mall, although some of that space will undoubtedly be set aside for back-of-house operations.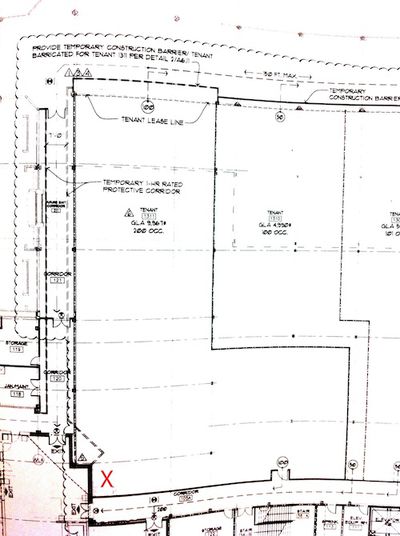 Blueprint showing Apple's new 9,967 square foot retail store space at King of Prussia Mall
Our source was able to obtain a photo of the interior of the space Apple will occupy, and it is clear that Apple has not yet begun to build out the distinctive details that will make it immediately identifiable as an Apple retail store. But with the space currently in shell condition, Apple should be able to move relatively quickly on construction to fit out the new store.


Shell space for Apple's new King of Prussia retail store
(Photo taken from rear corner of store, marked with red "X" in construction document above)
An opening date for the expanded location remains unknown, but Apple typically tries to have each year's batch of new stores opened by mid-November so that they are ready for the busy holiday shopping season.
(Thanks, Fred!)