iCloud Beta Previews Web Versions of Notes and Reminders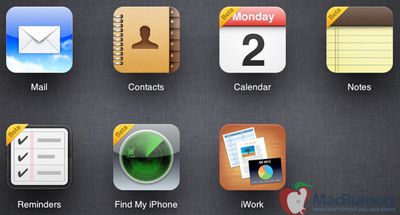 Leaks first appeared in May that Apple was planning to add web versions of the Reminders and Notes iOS apps to iCloud.com for access from desktop Macs and PCs.
The iCloud Beta portal has since been activated for developers enrolled the iOS 6 beta at beta.icloud.com. The site displays "Beta" tags on Calendar, Find My iPhone, Notes, and Reminders -- the last two being new additions to iCloud.


The web version of Find My iPhone has been polished, with a battery status icon as one new feature. The add-on gives users with lost gadgets some indication of how long they have to find their device.


Notes is a fairly faithful reproduction of the skeuomorphic notepad on the iPhone. Users can create, edit, and delete notes, with updates reflecting on iOS devices in near-real time.
The Calendar app doesn't have any immediately noticeable changes, other than the removal of Reminders to its own app:


Apple says it is using iCloud to "increase customer delight". With more than 125 million iCloud users as of April, it's unsurprising that the company is focusing so much effort on the service -- both on iOS and the Web. The new iCloud web apps will be live for all users with the launch of iOS 6, expected this fall.
Thanks Jono!