Apple Bringing Notes and Reminders to iCloud.com with iOS 6
As noted by Steven Troughton-Smith (via 9to5Mac), Apple appears to be testing a revised iCloud.com portal at beta.icloud.com that shows two additional icons for Notes and Reminders in the background of the login screen. The standard iCloud.com portal displays only icons for Mail, Contacts, Calendar, Find My iPhone, and iWork.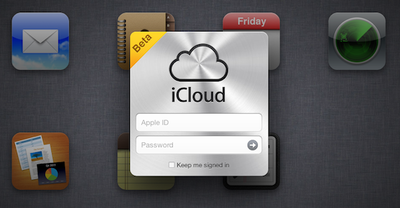 Attempts to log in through the beta portal are unsuccessful, and even access to the portal has become intermittent, with it occasionally showing broken images or simply redirecting to Apple's standard iCloud information page.
The development comes just days after Apple was observed testing notifications on the regular iCloud.com portal, suggesting that Apple may indeed be working on a significant enhancement to its iCloud services. More information may become available at next month's Worldwide Developers Conference.
Update: Tom Klaver notes that the following text was included in one of the .js files used on the beta site:
To use http://beta.icloud.com, first sign in to iCloud with the iOS 6 Beta.
Update 2: A second portal at developer.icloud.com has also been active periodically, and SlideToLock has pulled out an iCloud developer icon from that background.