Apple's iCloud and iMessage Services Experiencing Significant Outage [Update: Resolved]
A number of MacRumors readers are reporting that iCloud services are currently down, and based on the number of reports it appears that the outage is quite widespread. Apple's iCloud system status page is currently acknowledging access issues, although there is no estimate of the proportion of iCloud users being affected.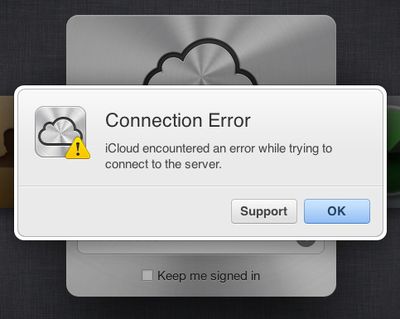 Beyond iCloud, Apple's iMessage service also appears to be down, with messages failing to go through as the sending process hangs prior to completion.
Update: Users are also reporting problems with Apple's developer portal and iTunes Store access, although pieces of Apple's online services do appear to be coming back online. We're even hearing that Apple may have experienced Internet issues for its own employees at its Cupertino headquarters.
Update 2: Apple has updated its iCloud system status page to note that "some" users are affected and that service will be restored "ASAP".
Update 3: Roughly two hours after reports of the issues began surfacing, Apple now notes on its iCloud system status page that all services are back online.