Time Inc. Begins Offering Digital Magazine Subscriptions in Newsstand
As noted by AllThingsD, Apple and Time Inc. appear to have settled their long-running differences over digital magazine subscriptions, with Time launching iPad-only subscriptions for its magazines through Newsstand. According to a press release from Time, the offering addresses all 20 of its consumer magazines, which include Fortune, People, Sports Illustrated, and Time.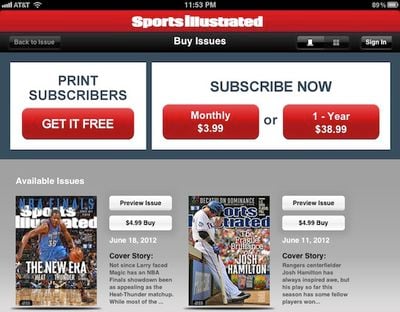 Time was prepared to launch iPad subscriptions for Sports Illustrated two years ago, but Apple refused to allow Time to bill subscribers directly rather than going through the iTunes Store mechanism where Apple would keep 30% of the revenue and limit publisher access to subscriber information. As a result, iPad users were initially limited to purchasing titles on a single-issue basis.
Nearly a year later, Apple and Time reached an agreement to allow print subscribers to receive free access to the iPad editions of the publisher's major magazine titles. But digital-only subscriptions remained off the table even as other major publishers such as Hearst were accepting Apple's subscription terms and rolling out their own offerings.
AllThingsD notes that it is unclear what changed between Time and Apple to now allow full-fledged digital subscriptions, including whether Time simply relented or if it was able to obtain some concession from Apple.
It could be as simple as Time Inc. trying to boost sales, which haven't been stellar recently — a slump at its People magazine title is particularly troublesome for the publisher. Or perhaps parent company Time Warner got some other concession from Apple for one of its other units, like HBO or Turner.
Digital subscription pricing for Time titles varies, but a flagship title like Sports Illustrated is being offered at a $3.99 monthly rate or a $38.99 annual rate, a significant discount from the $4.99 single-issue pricing for the weekly magazine.