Hearst Magazines Join Apple's 'In App Subscription' Program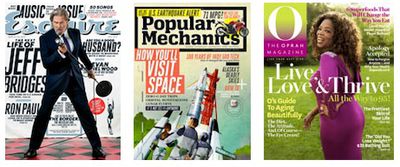 The Wall Street Journal reports
that Hearst Corporation has agreed to Apple's terms for in app subscriptions, making plans to begin selling subscriptions to several of its magazine titles beginning with their July issues.
Starting with their July issues, iPad apps for Esquire, Popular Mechanics and O, The Oprah Magazine, will be available through a service from Apple that allows customers to sign up for subscriptions inside the apps and get billed automatically. Subscriptions to all three publications will be sold for $1.99 a month or $19.99 a year.
Only a few publications have begun using Apple's iTunes subscription service, launched in February. Hearst is the first major magazine publisher to commit to selling subscriptions to multiple titles through it.
Hearst noted that it will also offer subscription access to its newspaper titles and other content in the future.
The development marks another significant victory for Apple in its push to bring magazine content to the iPad. Just days ago, it was revealed that Apple and Time Inc. have struck a deal to allow subscribers to the print editions of Sports Illustrated, Time, and Fortune to access the digital editions of those titles on the iPad free of charge. Time has yet to commit, however, to offering standalone iPad subscriptions for those titles.