Facebook's App Center Begins Appearing in iOS App
As noted by TechCrunch, some users of Facebook's app for iOS have noticed the social network's new "App Center" tab showing up in the navigation menu within the app. The feature is designed as a one-stop destination for app discovery on a variety of platforms, with recommendations based on Facebook's editors' selections and personalized by drawing from the usage of each person's friends.
Similar to the interfaces that the company showed off in early May when it announced the App Center plans, you can see a left-hand navigation feature within Facebook's feature-heavy iOS app. Apps with unread notifications appear in the top section. If you click through, you see the App Center (and you'll note that the logo in the screenshot also matches what Facebook has previously released).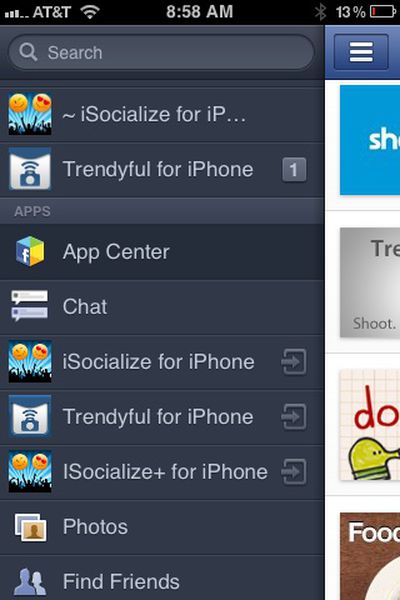 Within the app center, a "Social Picks" tab offers apps based on what the user's friends have used, while a "Top Apps" tab contains picks from Facebook's editors as determined by quality and popularity. The listings include iOS, Android, HTML5, and desktop apps, with users able to click directly through to the App Store or other marketplaces to download apps.


The Next Web argues that the addition of App Center will be a major boost for Apple, helping quality apps to surface from among Facebook's hundreds of millions of users and those top apps to be easily accessible to other users.
By launching this App Center, Facebook is actually doing Apple a gigantic favor in two regards. First, it will become a serious point of distribution for Apple developers, secondarily it will be a great avenue to talk Facebook developers into building iOS apps if they haven't so far. [...]

Facebook's App Center won't be clouded by anything other than actual data and usage. Imagine that, apps will actually bubble up to the top based on how often people engage with them.
After several years of what has appeared to be a tenuous relationship between Apple and Facebook, it certainly appears that the two companies are now moving to work more closely together. At the D10 conference late last month, Apple CEO Tim Cook hinted at Facebook integration and perhaps other announcements in that vein, urging users to "stay tuned".
For us, we want to provide customers simple and elegant ways to do the things they want to do. Facebook has hundreds of millions of customers. So, anyone that has an iPhone or iPad, we want them to have the best experience with Facebook on those platforms. So stay tuned.
Just a few days after Cook's comments, it was reported that Apple will indeed show off Facebook integration in iOS 6 at next week's Worldwide Developers Conference, making it much easier for users to post photos, status updates, and other content to the social network from within iOS.
With Facebook also feeding back into the App Store through its own App Center on iOS, it certainly seems that the companies are moving quickly to solidify their relationship for their mutual benefit and to the benefit of the millions of users who rely on both Apple devices and Facebook's social network.