Google Announces New 3D Features for Google Earth, Is "Committed to Offering" Google Maps on 'All Platforms'
In a last minute press conference, Google today shared "the next dimension" of Google Maps. The presentation, which some felt was underwhelming from a product perspective, included a lot of history around the Google Earth, Maps and Street View products, as well as a peek at what's to come.
The announcements are particularly significant with credible rumors that Apple will be dropping Google Maps as the native maps application in iOS, in favor of its own solution at WWDC next week.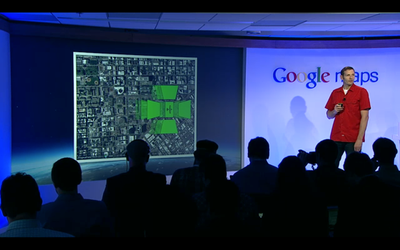 Image courtesy The Verge
The first big announcement was related to the display of 3D buildings in Google Earth. Google is using airplanes along with a Google-designed system to photograph cities and make a 3D map of buildings. It appears to be a very similar process to the one
used by C3 Technologies
, a company that
Apple purchased
last year.
The Verge
offers more
details on how it works
:
To make the images, Google uses planes to take images at 45-degrees from four different angles — flying them in a tightly-controlled pattern with plenty of overlap. Google builds the 3D model off of these many images, using algorithms to create the shape and color of buildings. The process is "fully automated," building the 3D images without any human interactions. The system is intelligent enough to know when a certain image is blocked or shadowed, for example. The company hopes to combine the 2D mapping and vector data with the 3D images to perhaps someday provide vertical location information.
Aside from the Google Earth developments -- which will be coming to the iOS version of Google Earth in the coming weeks -- Google also unveiled new technologies for Street View and
offline viewing
for Google Maps on Android.
Google executives also took questions from the audience. Brian McClendon, VP of Engineering for Google Maps, said Google was "really proud of Google Maps" and that the company was "committed to offering those services on all platforms". Based on these statements, it seems likely Google will offer a standalone iOS app for Google Maps even if Apple chooses to implement its own mapping solution in the native iOS Maps app, much like it does for the existing Google Earth app.