Steve Jobs' D Conference Appearances Now Available as Video and Audio Podcasts [Updated]
AllThingsD yesterday announced the release of a new set of video and audio podcasts covering all six of Steve Jobs' on-stage appearances at the D Conference between 2003 and 2010.
[B]y far the largest trove of video of the legendary innovator candidly answering unrehearsed questions and explaining his views on technology and business comes from his six lengthy appearances at our D: All Things Digital conference, from 2003 to 2010. [...] So, as a memorial to a great man and in the spirit of sharing a priceless piece of history, we are making all six of these appearances available on iTunes for free, in high-quality video. We thank Apple for its cooperation in making these videos available for all.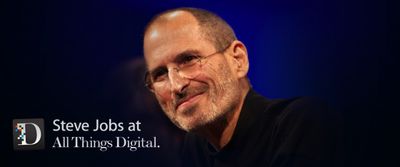 Jobs' five solo appearances check in at between 45 and 95 minutes each.
Update: All Things D tells us that the interview with Steve Jobs and Bill Gates was omitted by accident. It has since been added to the podcast collection in its entirety.