Apple Prepares to Bring New iPad to China as Cellular Model Gains Sales Certification
MarketWatch reports that Chinese regulators have cleared for sale a new 3G-capable wireless device from Apple, with the A1430 model number specified in the agency's database indicating that it is the cellular-capable model of the new third-generation iPad.
According to China's Telecommunication Equipment Certification Center, an Apple device with third-generation, high-speed wireless data capabilities has been issued the license needed for the company to begin sales in China.

The device, listed as "model number A1430" is compatible with the 3G standard wide band code division multiple access, or WCDMA. The language used by the regulator suggests the device is the new iPad, which has yet to launch in China. Vendors often begin selling new devices within weeks of network access licenses being granted.
Apple previously obtained certification on the Wi-Fi model of the new iPad, and with the 3G model now receiving the required network access license, Apple may move quickly to launch the device in its second largest market after the United States.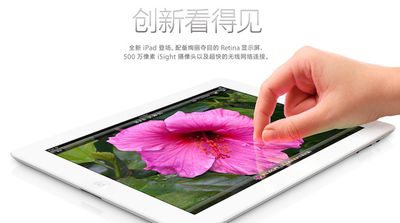 The new iPad is already available in roughly 90 countries around the world, with the company adding the Philippines and Guam just yesterday. Based on information on Apple's site, it appears that the company has also quietly added Honduras and Paraguay to the list of markets for the new iPad over the past few days.
Nicaragua is currently the only Latin American country with official iPad distribution that has yet to begin offering the latest generation of models, but we understand that Apple has just received the necessary certifications there and distributors should begin sales of the new iPad in the near future.