Accessory maker Moshi has released a new ultra-thin plastic shell protective case for the 11" and 13" MacBook Air models. This type of plastic case tends to be especially popular among students, protecting their machines from bumps and scratches. Moshi claims its case offers better heat dissipation than competing cases because it doesn't block the rear heating vent.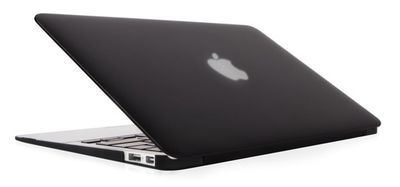 Many MacBook Air cases offered today feature bulky, obtrusive designs, and are often composed of materials which may not last the life of a device. The iGlaze for MacBook Air is an ultra-thin, stylish case created from the same polycarbonate material that's been proven for durability throughout Moshi's iGlaze line of cases for iPhone, iPad and MacBook devices. The iGlaze is surface-treated with a specialized coating that not only offers better scratch resistance than alternatives, but also accentuates the device's elegant design.
The iGlaze Air cases come in black, white, and translucent, and are available on Moshi's website for $55 and $60 for the 11" and 13" versions, respectively.