Microsoft Office for iOS and Android Arriving in November?
BGR reports that Microsoft is planning to launch Office for iOS in November this year, with the source claiming first-hand knowledge of the software running on an iPad. With the app's splash screen referring to it as "Office for iOS", the source also speculates that the app may also be coming to the smaller screens of the iPhone and iPod touch. In addition to its iOS effort, Microsoft is also said to be bringing Office to Android-based tablets in the same timeframe.
Microsoft had indicated soon after the launch of the original iPad that it was investigating the possibility of bringing Office to the platform, but ultimately stated that it had no plans for such an effort. The Daily has since claimed several times that Office for iPad is in fact in the works, reporting in February that it had even had hands-on time with a prototype of the app.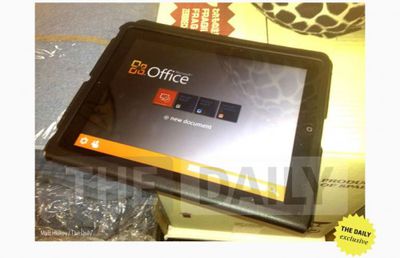 Photo of claimed Office prototype app running on an iPad (Source: The Daily)
Microsoft
denied the claim
, but
The Daily
continues to stand by its report. Suggesting that there may have been a misunderstanding somewhere, Microsoft stated that the situation would become "clear in the coming weeks". No such clarification has yet surfaced, however.